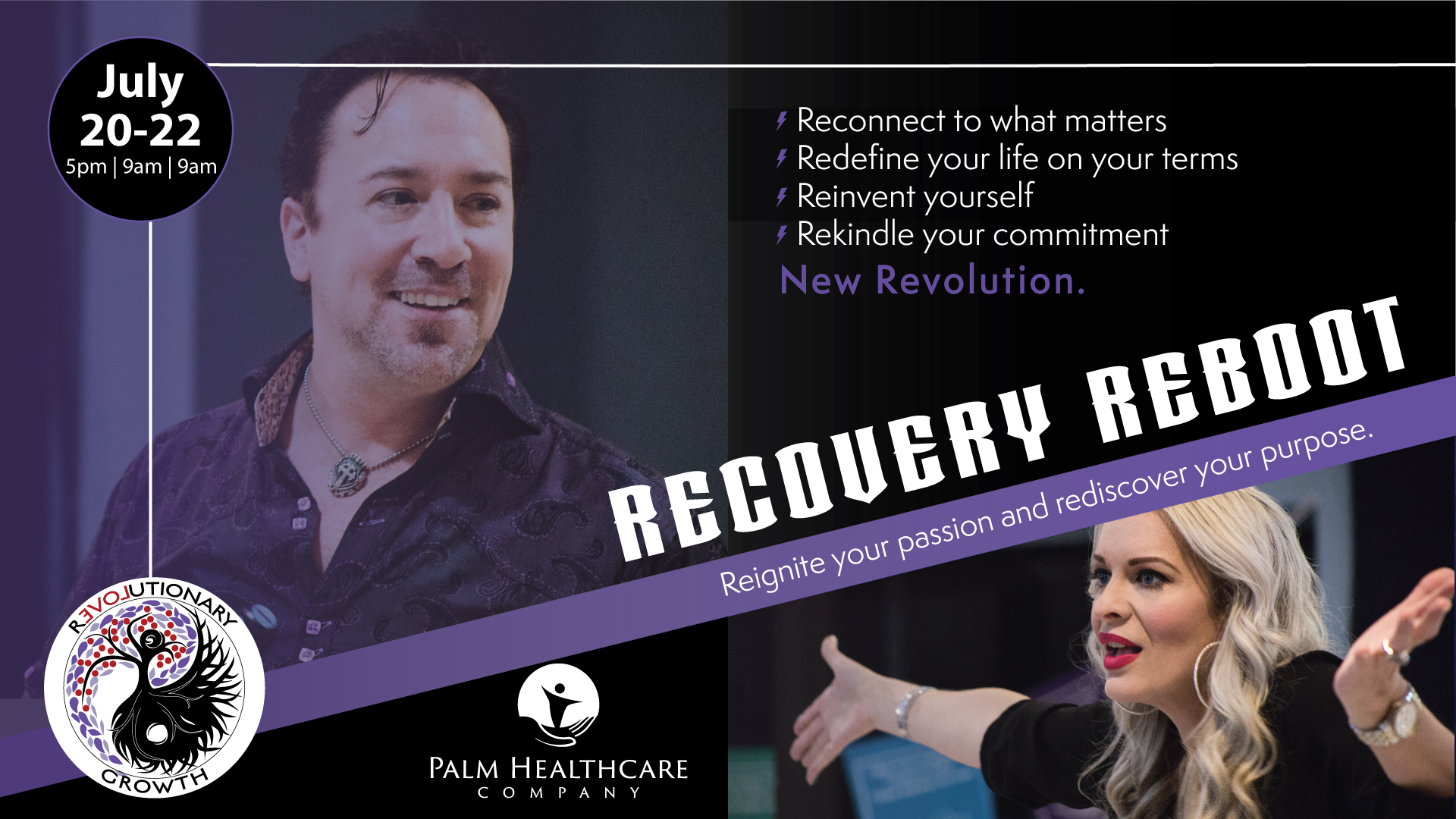 Palm Healthcare Company and Revolutionary Growth present:
A Revolutionary Health Event!
Recovery is a long road to wellbeing with many ups, downs, twists and turns. And maybe you've found yourself in one of these 4 positions…
Settling. You've gotten sober, but find yourself not as happy as you'd hoped. You're bored. You're unfulfilled. Maybe your relationships are still pretty lonely, or you hate your job. But you stay and hope things will change.
You know there has to be something more for you.
Struggling. You're just trying to keep your head above water and keep it all together. Some days, you feel like a ticking time bomb. You feel all alone. Your relationships aren't working. You can't make ends meet financially. You're being pulled in a million directions and you can't keep up.
You know you got sober for life to be easier. Not harder!
You're going back to old patterns of thinking, feeling, or behaving. Relapse is around the corner, or you find yourself in that vicious cycle of doing well only to self-sabotage.
You don't want to start all over yet again!
Stuck. You've made some really great changes in your life. But you can't seem to get to the next level. You need a breakthrough in your finances. Or you want to get clear on your life's purpose. You want to have more, be more, and do more, but you are totally stuck- not knowing HOW to get there.
You want to breakthrough to the next level of success!
Wouldn't it be amazing to…
Have the tools and strategies you need to immediately break free from the struggle for good!
Stop settling. And learn how to stay motivated on a consistent and unstoppable level!
Get empowered to walk away from people, paces, or things that hold you back.
Learn what all successful people know about how to make life work for you ON YOUR TERMS.
Gain radical new CONFIDENCE in yourself, and know what you're really capable of.
End the endless loop of relapse. And be guided through a revolutionary process to decide to live the good life once and for all.
Unleash your true authentic unstoppable YOU.
Get crystal clear on your goals for the New Year and leave with an action plan to IMPLEMENT them!
Supercharge your life to the NEXT LEVEL 
We know you didn't get sober to settle, struggle, stay stuck, or slip up. You got sober to have an extraordinary life!
And that's why we created this seminar just for you!
What is it?
It's a 3 day live seminar to unleash your full potential.
What will I experience?
If a rock concert married a spiritual experience, that would be this. In other words…
You can expect to have a lot of fun while you breakthrough to the next level in your life.
You'll rid yourself of any barriers to
You'll take time to design your ideal life and then you will be given the tools and strategies to live into that life.
You will eradicate any limiting beliefs, behaviors or emotions that don't help you and replace them with a new way to think, feel and act. 
    Got your ticket already? Help promote the event and earn 10%!  Become an Affiliate Today:  Affiliate Signup
"Dug and Heidi, I want to thank you for healing my family and restoring my son's soul. You helped him find his inner voice. The change in my son has truly been a miracle."
~ Anonymous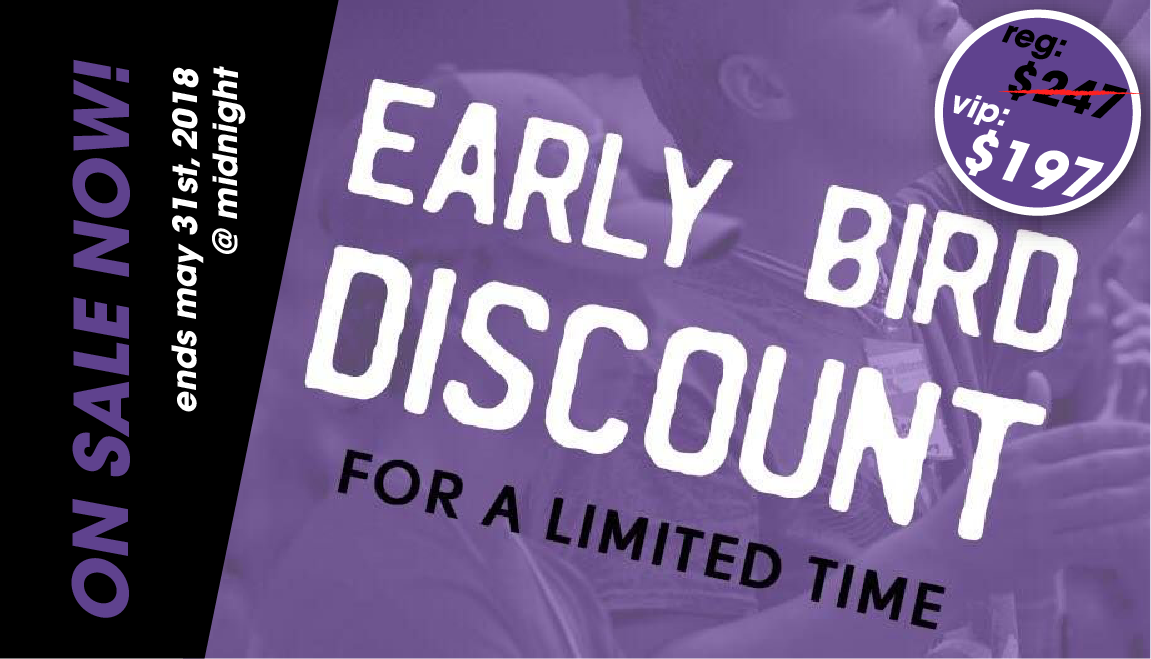 Join us from July 20th – 22nd, 2018!
in Deerfield Beach, Florida
"Heidi, you've helped me enormously. You were exactly "my person" I needed to get through this mess. I saw a strong woman that could offer empowering solutions to move forward with a realistic perspective on what I needed in my life going forward."
~ Laura G
"Due to your determination and pure will to help others, my daughter, as well as countless others, has a second chance at life."
~ Anonymous
F.A.Q.
Do I have to be in "recovery" to attend this event?
You do not have to be in recovery to attend. This event is open to all people. You do not have to subscribe to any certain "program" or way of thinking in order to get tremendous value out of the weekend. We encourage everyone who is interested in learning how to create lasting change and learn the strategies to live their ultimate life to attend. Basically, what we're saying is, this is a seminar on how to have an extraordinary LIFE. It aims to go beyond recovery. We are not teaching any "traditional "recovery methods here. How long is it? This event will be over the course of three days. Friday January 19 at 5 PM- Sunday January 21 at 3 PM. Who's leading this thing? We're Dug and Heidi McGuirk. Two Master certified, professional life coaches with a combined 40 years of experience in self-improvement and human transformation. Dug was working as one of an elite team of 7 handpicked trainers for Tony Robbins when he got recruited 7 years ago to teach human transformation at Palm Partners Treatment Center in Delray Beach, Florida. He is a nationally acclaimed speaker, a published author, master practitioner and trainer of Neuro linguistic programming, and a certified Neo-Ericsonian hypno-therapist. He has won several awards for his outstanding clinical contribution to the therapeutic process of people in treatment for drugs, alcohol, and duel diagnosis. He is co-creator of the acclaimed Family Program. He's a dynamic, creative, and charismatic spiritual teacher and transformational leader. Heidi had over a decade of experience as a business strategist and executive coach who specialized in leadership development and corporate restructuring when she got recruited to teach at Palm Partners with her husband, Dug. Heidi is a Master Practitioner of NLP, and Master Certified Life and Relationship Coach. She specializes in self-love, dysfunctional relationships, and dealing with addiction in the Family. She's a critical part of the clinical treatment team at Palm Partners Treatment center where she is consistently recognized for her exceptional clinical contribution. She is also co-creator and co-facilitator of The Family Program.  As an adult child of an alcoholic and former eating disordered binge drinker, she lends a personal understanding which helps her to truly connect to those she helps. Her unique style of using humor and candor encourages and inspires people to heal. She is a powerful healer and exceptional teacher. Can I bring my family? Yes! You can bring whomever you like. We know this event will bring the whole family closer together! How much is it? Regularly it's only $247.00 for the entire weekend, but right now we are running a SPECIAL until April 17th for $197.00 for the weekend. You are also responsible for your own lodging and travel. As much as we'd like to have you stay with us, we have a kid, two dogs and a cat. Is it only for alumni or people who have been to treatment? No. If you're reading this…this event is for you. When and where is it? July 20-22 2018 at the Doubletree by Hilton Hotel, 100 Fairway Drive Deerfield Beach, FL 33441 Google Map to Doubletree by Hilton Where can I sign up? Sign Up on EventBright

"Dug and Heidi changed my life."
~ Everyone who we've ever helped
Help promote the event and earn 10%!
Become an Affiliate Today:  Affiliate Signup